Denmark Immigration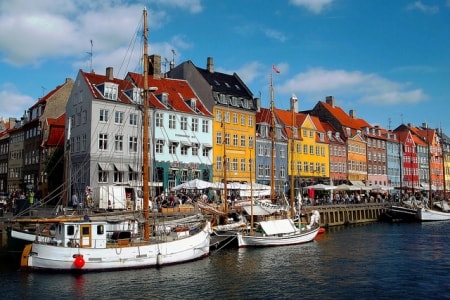 Denmark, the happiest country of the world, happens to be one of the most flourishing nations. Comprising of a population of approx 5.58 million, Denmark has excellent standards of health, education, and welfare. Immigration to Denmark can not only provide you with peaceful life but also the best education for your children, top career opportunities and a lifestyle full of luxury. Denmark is also full of historical location to remember for a lifetime. For travelers, Denmark has lots of things to offer. With so many exciting places and heartwarming people, Denmark surely deserves the tag for the happiest country in the world. For overseas job seekers, Denmark can lead you the way to some top employers of the world and a global established career.
FIND OUT YOUR MATCHING JOB PROFILE WITH DENMARK OCCUPATION LIST 2017 – 18
Besides pertaining to an egalitarian society, its serene beauty and peace imbibing nature attracts several immigrants across the globe. Denmark Immigration authority has always provided golden opportunities to aspirants who wish to migrate to Denmark under Business visa, student visa, family visa, and travel visa programs. Immigration to Denmark can be the best option for you whether you are a student, or want to establish your business, want to visit your family in Denmark or just need a break and travel the beautiful region of the nation.
We at Vmake Visas make sure of your need for Denmark Immigration and provide you the finest migration services with various types of visas like – Student Visa, Family Visa, Business Visa, and Travel Visa. Our official website www.makevisas.com is incorporated with the latest updates on Denmark immigration and provides facility like – live chatting with the Denmark immigration experts and free Denmark assessment form.
So if you want to migrate to Denmark by the easiest, hassle free and the best possible way, contact Vmake Visas' Denmark Immigration experts or visit our website www.makevisas.com. Grab your Denmark Visa today!
Denmark Immigration Visa Programs
MIGRATE TO DENMARK
Denmark works as a gateway to settle in Europe. Further, Immigration to Denmark has become considerably effortless, as the country has a modified visa system to welcome more immigrants. It has also introduced an easy procedure for getting Danish Green Card, which happens to be a permanent residency visa.
The most preferred visa option for Denmark is the Green Card Scheme which allows you to live and work in Denmark if you can score the required points based system on certain criteria.
Make Visas has been helping people in Immigration Programs for a long time and therefore has gathered thousands of satisfied clients all around the world. We deal in Permanent and Temporary Visa Programs for countries like Australia, Canada, New Zealand, Germany, Hong Kong, South Africa, USA, and the UK.
BENEFITS OF DENMARK VISA
Some of the most Beautiful Tourist Attractions lie in Denmark.
Denmark tops the chart to be deemed as the Least Corrupted Country.
Denmark provides Excellent Job Opportunities in various fields.
Denmark has a Temperate Climate, characterized by mild winters and cool sum.
Denmark has Globally Acclaimed Education System with esteemed universities offering job oriented courses.
Denmark is a Homogenous Country; it welcomes people of all cultures and religions.
For availing more information about Denmark Immigration, call the corporate hotline 011-48414141/Email your queries on info@makevisas.com or visit the Official website.